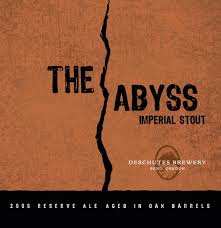 Monday night, and what better night for a vertical tasting of Deschutes Abyss in Bellingham, WA?  It's barely an hour away, if you don't count the border lineup, but considering that I may never get another opportunity to sample the 2010, 2011, 2012, and 2013 Abyss side by side again, an hour is a pretty small price to pay.
McKay's Taphouse and Pizzaria looks like the kind of hole in the wall you might keep driving past, even if you were thirsty and intrigued by the neon Ninkasi sign in the front window – but dare to enter, and you'll be drooling before you even make it to the bar.  Some 50 rotating taps and another 100+ bottles of fine craft beer ensure that even the most discerning beer aficionado will be satisfied.
When I heard that Deschutes Brewery was sending their hard to find Reserve Series beers up to McKays, it didn't even cross my mind that I had just come off a long week of beer tasting, with another full week of beer events ahead of me.  It didn't matter that I had to work until 5pm on Monday and that there was a good chance that by time I made it to the event (which was scheduled to start at six), the coveted Abyss might already be sold out.  There was no question that I was going to be there!
And as it turns out, we got lucky.  Despite a half hour wait at the US Border, we were walking in McKay's front door at 6:38, and in the line for tasters.  Finding a seat was another story, but where there's a will there's a way, and soon enough we were face to face with four luscious Imperial Stouts of almost immeasurable depth and complexity.  It is absolutely amazing how time changes this beer.  Everyone we knew unanimously agreed that their favorite was the 2010, followed by the 2011, then the 2012, and finally 2013.  Don't get me wrong – every single one was STELLAR, but the fusion of flavours that age imparts is an intangible that tantalizes the tongue more and more as the beers matured.
Deschutes head brewer Gary Fish first came up with the concept for  The Abyss in 2006, but until this night I had previously only tasted the 2011 and 2012.  Ingredients such as cherry bark, black strap molasses, licorice root, vanilla bean, and bourbon barrel aging impart so many complex flavours that change so subtly with time, that a vertical tasting such as this is really the only way to truly appreciate the effects of aging.
The first beer I ever came across with a "Best After" date stamped on it, I admittedly have opened a few too early in the past, so I know how hot this 11% alcohol beer can be if you're not patient.  There was still some heat in the 2013 we tasted tonight, and a trace left in the 2012, but you would never suspect the 2011 or 2010 of being so strong – just smooth, and deliciously complex.
Unfortunately this trip was short, but sweet.  After the Abyss I had a Next Adventure Black IPA from Fort George Brewing, a Deschutes Hop Trip, and a Whistling Pig Heffe from Fish Brewing, but then it was time to head back to Canada.  Work in the morning, then giving a beer lecture in Chilliwack on Tuesday night!
The following two tabs change content below.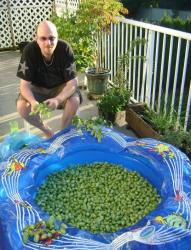 Brewer, business owner, blogger, and craft beer activist. Traveler, foodie, used to play in bands you may have heard of.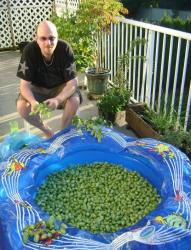 Latest posts by Calvin Quaite (see all)