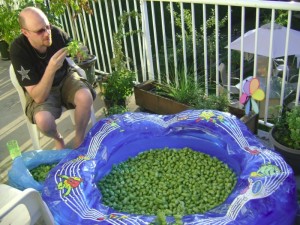 In my August 2013 article for The BC Craft Beer News I mentioned that while Chilliwack, BC was at one time the largest exporter of hops in the entire British Empire, by the end of the 1990's every last hop farm had been shuttered.
While it's true that all those fields of wonderful hops were uprooted, sold off, and replaced first with cauliflower, then corn, then raspberries, the area is still far from being devoid of hops. In fact I dare say that if you know what to look for, you can spy a bine or two winding their way up a guy wire, through blackberry bushes, or up a tree in nearly every neighborhood from Yarrow to Agassiz.
Humulus Lupulus is an amazingly resilient and adaptive creature. Even the sterile, seedless varieties that were last planted here some 25+ years ago, still seem to be flourishing and producing abundantly –despite the species purported 18-20 year lifespan, and no apparent means of reproduction. Knowing exactly what you're picking can be a challenge though – you'll find four inch long highly fragrant bright green elongated cones growing right next to small round cones no more than an inch across, that are absolutely stuffed full of sticky yellow lupulin glands. Obviously two different varietals were never purposely planted in the same row in the field, yet here they are, coexisting perfectly in the wild.
Last harvest season, the Chilliwack Homebrewer's Club members were fortunate enough to have a
chat with Rick Knight, former foreman of the last John I. Haas Hop Farm operation in Chilliwack, and
current custodian of Sartori Cedar Ranch Hop Farms in Columbia Valley. Rick explained that at the
close of the legacy operations in Chilliwack, the the major brewery desire for Goldings Hops pretty
much assured that any new plantings were Goldings, and that while other varieties were still grown,
there's an 80+% chance that any feral hops we're finding now are Goldings descendants. He was quick
to point out that while current crops are most certainly mutations with Goldings parentage, they might
not taste, smell, or look anything like Goldings! Since many farmers would plant one single male
plant per field (not to pollinate, but to apparently 'trick' the field of female plants into producing 10-
15% more weight), the inter-breeding and mutation that could have occurred over the past few decades
is completely unpredictable – but that does NOT in any way mean that local hop-heads and
homebrewers are making bad beer – quite the opposite!
For the past 2 years, I have hosted a "Hop Rip" tour for the Chilliwack Homebrewer's Club, and we'll
be doing it again in late September. We've confirmed several dozen spots that are easy to get to, and
producing great hops. Some club members meticulously dry their hops and save enough for the
coming brew season, while others brew huge wet hopped IPAs the same day as the harvest. One
particularly memorable IPA, and the winner of last years "Local Hop Harvest Competition" had 4 lbs
of fresh hops in a 5 gallon batch, and tasted amazing. This year, many club members are already
staking out new hop claims, and at least one of them has been loading his work truck with buckets of
Miracle Grow, stopping once a week at his four favorite bines to give them a little extra boost. Many
members have also dug up and transplanted rhizomes to their own yards, with great success.
Chilliwack Hop Farms is a new start-up in our area. On Unsworth Rd, in the Sardis side of town,
Chilliwack Hop Farms has 8 varietals ready for commercial harvest this year with several acres of
newer varietals under planting. Last year, since the oldest bines were only in their 2nd and 3rd year and
not considered ready for commercial sale, owner John Lawrence asked True North Brew Supply
customers and Chilliwack Homebrewer Club Members if they would like to pick Mt. Hood, Magnum,
Fuggles, Nugget, Chinook, Cascade, Goldings and Centennial … For FREE. He lopped down several
hundred pounds for us to divvy up, and gave us some insight into their plans for the 2013 and 2014
harvests. This year, they intend to focus on the wet-hop and fresh hop market, gaining interest in the
homebrewer, micro-brew and brew-pub community that is always on the lookout for something
seasonal and unique. They also just purchased a picker from Poland and are currently erecting a drying
and peletizing facility, the intent is to pelletize a portion this year, but the facility may not be at full
capacity until the 2014 harvest.
Details of the next "Hop Rip" event will be posted on the Chilliwack Homebrewer's Website,
http://WorldOfWortcraft.com Everyone is welcome to participate in the 2013 Hop Rip event!
Photos from past Hop Rips can be found at http://www.worldofwortcraft.com/photo-gallery/
Chilliwack Hop Farms has just started a website at http://www.chilliwackhopfarms.com – hopefully
more information will be online soon.
The following two tabs change content below.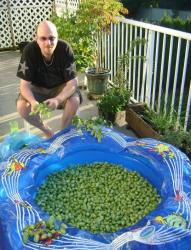 Brewer, business owner, blogger, and craft beer activist. Traveler, foodie, used to play in bands you may have heard of.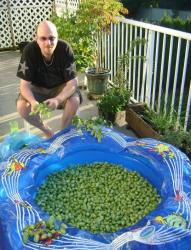 Latest posts by Calvin Quaite (see all)