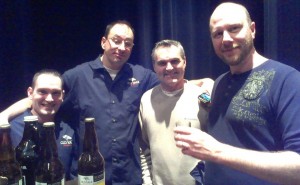 Finally, the day is here!  The day I have been awaiting for over four months, the day I co-sponsor my first real beer event, Chilliwack's inaugural Fraser Valley Culture and Craft Beer Festival!  My homebrew supply shop True North Brew Supply is one of the bronze level sponsors, and while I'm most excited about tasting some great Craft Beer, I must admit that I'm kinda looking forward to seeing my name in lights too.
Big shocker, I worked the shop until 4pm, then raced to be at the venue before 5.  We made it 20 minutes before the doors were set to open and went in to quickly setup a table with True North Brew Supply cards and fliers.  While I was at the coat check, the event organized tried to wrangle our tasting glasses away from my wife, explaining that presenters don't get to taste… ignoring that my wife is telling her "no, we're sponsors, not presenters" until she noticed our wristbands and said "Oh, you're patrons.  Never mind then.", walking away before I even had a chance to say "Hi, by the way, I'm Calvin from True North Brew Supply, I just cut you a big cheque last week, remember me?"
Not to be deterred, we made our way to the event plaza where lots of familiar faces greeted us.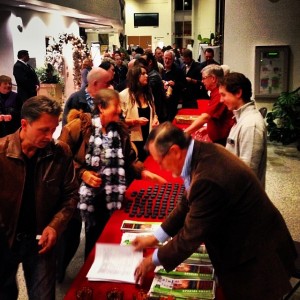 Brad from District Public House, Brittany from Dead Frog, Tess from Driftwood, Gord from Old Yale, and the good ol' boys from Mt. Begbie, Four Winds, Russel, Howe Sound, and many more.
As soon as the doors opened the patrons piled in, and the event that was sold out months ago quickly packed up, with line-ups at every tasting station.  The 400+ attendees were treated to complimentary appies, sandwiches and treats from local vendors, and, live music from Chilliwack's own "Lounge Hounds".
A couple hours into the event, I was so busy tasting great beers and chatting with friends, customers, fellow business owners, brewers, and beer enthusiasts, that I hadn't even realized that I hadn't come across my True North Brew Supply logo once, save for the one on the event flier.  My sponsorship contract had clearly stated that my logo would be on the flier, the event banner, all media campaigns, society marketing, websites, advertising, newsletters and that there would be a display available at the event.  I briefly stressed for a few minutes before accepting that this was after all, a charity event, supporting a cause that I believe in, and besides, being Chilliwack's Beer Guy, I was kinda preaching to the choir anyway.  Other than the lack of representation for ANY of the sponsors (District Public House was a gold level sponsor and received exactly as much exposure as I did),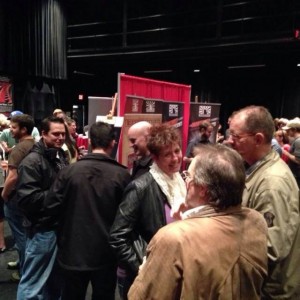 this was a pretty stellar beer festival, especially considering it was their first attempt.  In fact, having been to the last two Harrison Beer Festivals, this one was easily more vibrant and entertaining.  Sure, there were some things that should be tweaked for next year, like maybe doubling the capacity and allowing for more seating areas, but as far as beer representation,  food, and entertainment, this festival hit the mark.
Added bonus for me tonight, although there were only a half a dozen beers represented that I hadn't tried before, that was all it took for me to earn my 'Legendary" badge on Untappd – that's 500 unique beers in less than 12 months!
Some highlights for me tonight were Dead Frog's newly revised Winter Beeracle, and Old Yale's new winter warmer "Lary's Irish Cream".  The picture at the top of this article is the Old Yale crew, Gord Gagne, Brewer Larry Caza, and myself – all enjoying Larry's Irish Cream.  Of course, some old standbys like Tin Whistle Brewing's Scorpion Double IPA, and the Green Flash IPA were certainly welcome tonight.  The Paracutin and Sugarloaf offerings from Scandal Brewing were surprisingly good too – a year ago if you told me I would enjoy a beer from Pacific Western, I would have dropped the gloves and pulled your jersey over your head, but I gotta say, their branch into craft brewing under the Scandal brand has thus far, impressed me.
Unfortunately, I think that 4 hours was not enough time for a beer festival – but that's okay I suppose … tomorrow I have to get up early and help judge the Chilliwack Homebrewer's annual Brewing Competition!
The following two tabs change content below.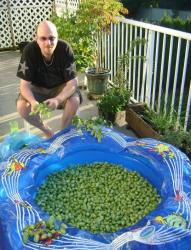 Brewer, business owner, blogger, and craft beer activist. Traveler, foodie, used to play in bands you may have heard of.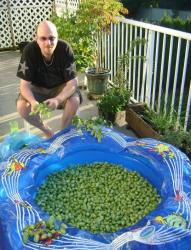 Latest posts by Calvin Quaite (see all)