Owning and operating both True North Brew Supply and Conner's Wine Cellar keeps me pretty busy; to the tune of 6 days a week… at least.  Throw in a monthly home brewer's club meeting or two, a wine club meeting, at least one or two evenings brewing, the occasional hop utilization lecture to give, article to write, or brewing class to teach, and, well, that doesn't leave me with much time to tend to my hop plants, grape vines, fruit trees, berry bushes, herb and vegetable gardens… let alone do something I really enjoy, like exploring B.C.'s ever expanding selection of Craft Breweries and Craft Beer serving establishments.
On top of all that fun beer related work, I have a wife and six year old son that I'm pretty crazy about, and I'm told they like spending time with me too – so we try to reserve Sundays for fun family activities.  Hopefully, that includes lunch at a Craft Friendly establishment.  The fun balancing act is finding one that not only allows minors, but also creates a fun atmosphere for kids.
South of the border, this is a cinch.  Every brewery in Bellingham not only welcomes kids, but will have activities, a kids menu with child friendly portions, and also a fun colouring sheet complete with crayons.  Not just the breweries, but the taphouses (McKays) and GastroPubs (The Copper Hog) too.  Even bottle shops like Elizabeth Station have a kiddie corner with chalk boards and toys.  Breweries like Boundary Bay are so known for their family friendly environment that I have counted more sippy-cups on the tables than pint glasses on my last 3 visits.  Head to Seattle and it's even better, make it as far as Portland and you're in Kid Friendly Craft nirvana.  Of course, that's not a practical Sunday afternoon day trip.  In fact, the Sunday evening northbound border traffic has been so dense lately, that even a quick jaunt to Bellingham (31 minutes as the crow flies) turns into a 2 hour wait in border traffic.
Wouldn't it be great if you could find this vibe in B.C.?   You can!  And with recent changes to our liquor laws, it's about to get even better.  I have spent many a Sunday over the past year searching for these establishments and am about to present you with a list of my favorites.  These gems were few and far between, and required a lot of sleuthing (unlike in the U.S.,  many B.C. establishments do not mention on their webpages that minors are welcome, and do not post kids menus – even if kids ARE allowed).  There was a trick until recently; if the name of the establishment had the word "Pub" in it, it holds a "Liquor Primary License" and minors were not allowed.  If the name says "Bar and Restaurant", "Taphouse and Grill", "Brewhouse and Restaurant", "Alehouse and Cafe", "Craft Brewhouse and Kitchen" or any variation that implies separate food service, then they are either licensed as "Food Primary" which allows minors, or they have a dual license where one side of the establishment is a bar (adults only) and the other side is a restaurant (everyone welcome) – but the same drink and food menus will exist on both sides.
With our recent liquor policy review though, the lines between liquor primary and food primary are blurring, and slowly moving toward a single license system.  Pubs can also now apply for a Family Foodservice endorsement, which allows liquor primary establishments to host minors until 10pm.  The label "Pub" or "Public House", previously reserved exclusively for adult only "liquor primary" service, is no longer a clear indication as to whether kids are welcome.  In the week that followed the legalization of Family Foodservice, 33 pubs in BC have already received the endorsement.  So times are changing!
I live in Chilliwack,  so naturally we're looking for craft friendly lunch spots in the Fraser Valley.  Sadly, none yet exist in our hometown, but with a 30 minute drive, we're amply rewarded.  The Billy Miner Alehouse and Cafe is easily our favorite  (See my full review here).  With a great kids menu, craft made rootbeer, and WikkiStix for my son to play with, he's always exited to have lunch at The Billy Miner.  A close second is Mission Springs Brewing Company, which is equally as kid friendly with a really cool environment, an excellent Sunday buffet, WikkiStix, and a great kids menu, but when it comes to making the adults happy, The Billy Miner pulls into the lead with an unprecedented 33 taps of Craft Beer, a wood fired pizza oven, gourmet burgers, and gastro-menu selections that will make any foodie drool.  I love variety, I love unique flavour combinations, and I love beer and food pairings; so in that respect, The Billy Miner is without equal.  If a really cool eclectic environment with fresh "brewed in-house" beer, and excellent quality pub grub (and a Sunday buffet!) is more your speed, then Mission Springs is a clear winner.
Smack dab between these two establishments at Albion on the north side of the Fraser River is the Kingfisher Waterfront Bar and Grill.  Just like the other two kid friendly establishments on the Lougheed highway, the Kingfisher is dual licensed; with a bar side and a restaurant side.  What make the Kingfisher different though, is it does not mention anywhere that minors are welcome, does not have a kids menu, crayons, or activities.  While the least "kid friendly" of the 3 north Fraser options, do not dismiss The Kingfisher!  The staff have always been extremely accommodating with suggesting kid sized portions and drink options, and the gorgeous patio view and rotating craft taps more than make up for that.  In the summer, if you want to relax right on the water with a great meal and a craft pint, catching some sun while watching fishing boats meander down the river, this is a great relaxing place to be.
In Vancouver, there are plenty of options.  We have tried and enjoyed Craft Beer Market, Tap and Barrel, Yaletown, Biercraft, and a host of others – but for me, when it comes to a place that welcomes kids, has an amazing tap list, AND gastro-gourmet quality food offerings, there's only one choice: St. Augustine's Craft Brewhouse and Kitchen.  I absolutely love, love, love the food there – and with 54+ taps, when we're in Vancouver it's hard to venture somewhere new when we know how consistently amazing St. Augustine's is.  It's interesting to note that as beer-centric as they are, they actually hold a Food Primary license.  The entire establishment is considered a restaurant, therefore families are welcome around the clock.
When it comes to Brewery tours and tasting rooms in B.C., I recently came to a jaw dropping realization while at 33 Acres Brewing Company in Vancouver.  While my son has been with us at many U.S. breweries, from Chuckanut, to Elysian, to HUB, Alameda, Gigantic, Deschutes, Firestone Walker, and dozens more – I had just always assumed that B.C. tasting rooms were off-limits to minors.  After all, there's no food service.  I had yet to see any indication in any B.C. brewery ever, that would lead me to believe that kids could do brewery tours or enter tasting lounges… but after walking into 33 Acres a few weeks ago and seeing their "family inclusiveness" design, complete with a little people's play area, I was absolutely beaming.  Could this meanthat minors are actually allowed in breweries?  In fact, YES!  They always have been… it just took a little forward thinking from 33 Acres to bring it to my attention.  I checked out what the license conditions for B.C. breweries and distilleries (p.14) have to say about minors on premises:
Minors
It is against the law to sell, serve, or supply liquor to a minor. You and your staff are expected  to put in place effective systems to meet this obligation.
Minors are allowed in your sampling room, facility, lounge, special event area or store (if you have one) only if accompanied by a parent or guardian. Minors are permitted in picnic and tour areas without a parent or guardian.
So There you have it.  I just never knew it., and I'm willing to bet that a lot of other parents didn't either!
We decided to test our newly realized freedoms this Sunday, and after lunch at The Billy Miner, we headed to New West for a taster paddle and growler fill at the newly opened Steel and Oak brewery, and then to Delta for the same at Four Winds Brewing.  In both tasting rooms, my son was welcomed, accommodated,  and engaged.  In fact, at Four Winds we were treated to a piano recital from one of the employees, and my son was very happy.   Mommy and Daddy were happy too.
As the Craft Beer industry slowly but surely sheds the stigma associated with antiquated schools of thought around alcohol taboos, and responsible parents are able to actively demonstrate social responsibility, respectful alcohol moderation, and temperance  to their children in a way that also nurtures a respect for artisan and craft, quality ingredients, and local community pride, showing them that beer is not some evil to be fearful of, but rather can be enjoyed responsibly without shame or incident, well, if this cultural shift is really taking shape the way I think it is, then I suspect we're going to be seeing a lot more family inclusive philosophies creeping into a lot more Craft Beer establishments really, really soon.   And I think that's a really good thing.
The following two tabs change content below.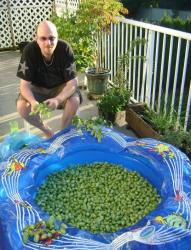 Brewer, business owner, blogger, and craft beer activist. Traveler, foodie, used to play in bands you may have heard of.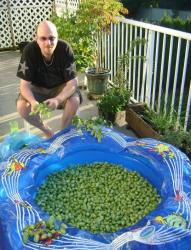 Latest posts by Calvin Quaite (see all)