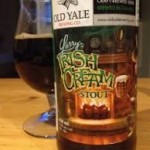 Tonight, one of the partners in Old Yale Brewing invited me down  for chat, tour, and tasting.  As many times as I've stood in the front half of the brewery talking to Larry or one of the employees, I've never actually been walked through the whole system – so I was looking forward to the impromptu visit!
It was -16 with the windchill tonight, so it was very nice that their new winter warmer, Larry's Irish Cream, was currently in the bright tank and ready for sampling.  There is nothing fresher or more vibrant than beer directly from the bright tank!  Also on tap was Citra Sergeants, and D.O.Ale.  Larry's Irish Cream is a nice Imperial Stout (well, 7.5%, so technically not quite Imperial) based loosely on their Sasquatch Stout with nice chocolate and coffee notes, but blended with Bailey's Irish Cream.   Yum!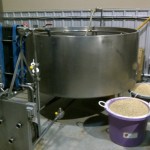 The modest brew deck (I'm guessing about 15-20 hectoliters?) actually puts out a lot more beer than you'd think – With five fermenters, there's plenty of capacity in their fairly small footprint to accommodate the demand for their product.  The bright tank resides in the cold room right along side the fresh hops, and can carbonate a whole batch in under a day.  Lines run out to the canning machine, bottling line, and keg filler.  Simple, but effective!
Since taking advantage of their Tasting Room endorsement this summer, growler fills and on-site sales have really taken off.  There are always four taps flowing, usually two of the four flagship beers, one of their three specialty beers, and a keg hopped IPA.  Cascade, Citra, Centennial, and Amarillo have all made appearances so far, but the Citra is easily my favorite – the strong malt background of Sergeants IPA really compliments the grapefruit qualities of citra hops.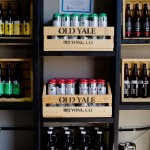 Old Yale owners are tossing around some cool ideas for the new year, including additional tanks, expanding their Alberta market, and perhaps even patio parties in the summer, complete with food trucks and live entertainment.  Of course, some new seasonal releases will also be in the works!
It was nice to hang out in a brewery for a couple hours, chatting about the future of the industry, the future of OYB, and just generally enjoying some good beer.  I left feeling very optimistic about the road that lies ahead for Chilliwack's original craft brewery.
The following two tabs change content below.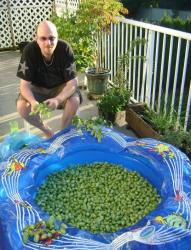 Brewer, business owner, blogger, and craft beer activist. Traveler, foodie, used to play in bands you may have heard of.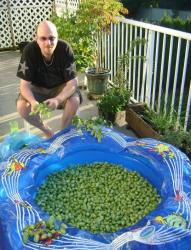 Latest posts by Calvin Quaite (see all)