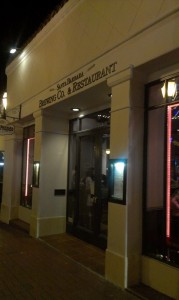 It's day two in central California, and we're spending it in Santa Barbara.  There are actually quite a few great breweries here; Island Brewing Company, The Brew House, Union Ale, Telegraph, and Figueroa Mountain Brewing Company to name a few – but the parameters set by this particular trip necessitated that the establishment we'd visit today have a full dinner menu, and be kid friendly.  So, Santa Barbara Brewing Company was an easy choice.
You'll find Santa Barbara Brewing Co. on State Street,  right in the heart of the entertainment district.  If you're ever in Santa Barbara as a tourist, this is the street you'll be spending a lot of time on, so SB Brewing is well situated to attract the tourist crowd.  We arrived right at sunset, which was right at 5pm tonight, and the place already had a lineup.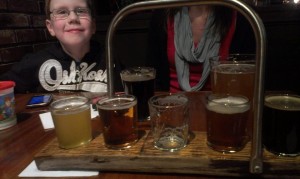 We got super lucky and a table opened up as soon as we got in the front door.  With 10-12 house beers on tap at any given time, choosing only 5 to try in my taster paddle was a daunting task, so I ended up with their IPA, Double IPA, State Street Stout, Gold Coast Wheat, and Naughty List Russian Imperial Stout, and also pints of their Painted Cave Porter,  and Oktoberfest.  All decent beers, well made, fresh, and thoroughly enjoyable – but nothing really jumped out at me as being stellar.  The Naughty List was memorable though, I appreciate a good Imperial Stout!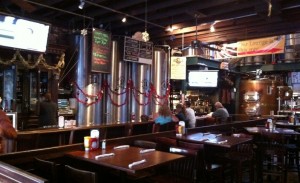 The place is run like a gastro-pub, which is my favorite brew-pub style; I mean, beer is great, but I love food too – and a great meal makes the beer even better, right?  Although the gourmet burgers looked amazing, their house pizzas caught my eye and I ended up ordering "The Santa Barbara" (when in Rome, eh?) Smoked bacon, fresh basil, black olives, sun dried tomatoes, sauce, and mozza.  It was gooooooood.  The acidity of the sun dried tomatoes didn't play well with a couple of the beer samples, but paired well with most.  Fortunately there was a nice palate wrecking double IPA to cleanse with 😉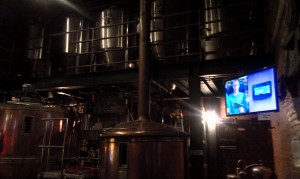 I liked that the entire brew system was right at the back of the pub, so that patrons could view the cool copper and stainless steel tanks.  Mashing and Boiling on the main floor, and fermenters above on the mezzanine was different, albeit an efficient use of space – especially since massive bright tanks behind the bar were actually supplying beer right to the taps – now that's fresh!   All in all, I enjoyed their beer and their menu.  The next time I'm in the area there are a lot more breweries I need to check out first,  but I can say with confidence that I will definitely be coming back for some pints at SB Brewing Co. someday!
The following two tabs change content below.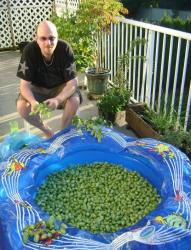 Brewer, business owner, blogger, and craft beer activist. Traveler, foodie, used to play in bands you may have heard of.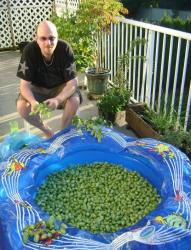 Latest posts by Calvin Quaite (see all)