Working six days a week certainly has it's disadvantages, not the least of which is that the one day a week that I get to check out breweries, nanos, and taphouses is the one day they're usually closed – not that this really matters, because the one day that I am not at work is the one day I spend with my family … and as the law in British Columbia stands right now, my six year old can't go on brewery tours or hang out in pubs.  Ironically, this law is changing in B.C. and soon I WILL be able to bring him with me to many of these establishments; but until that day, I spend my Sundays looking for "Restaurant Primary Licencees" where the whole family can have brunch and where I can enjoy a pint or two of fine craft beer.
Being from the Fraser Valley, my choices are rather limited.  Fortunately, what this region lacks in quantity, it makes up for in quality.  South of the border, it's easy to find family friendly establishments that are craft beer centric, but here there are really only a couple that embrace the family dynamic.  Mission Springs with it's huge Sunday brunch and eclectic decor is an obvious first choice, but did you know that the Billy Miner Alehouse and Cafe on the Haney Bypass is easily as charming, and just as kid friendly?  Full disclosure, these two eateries have the same owner, so it's easy to understand the shared family philosophy, even if you don't pick up on the fact that they the only two restaurants in the area that offer free WikkiStix to entertain the kids (and Dad).
The Liquor Primary Side has 28 craft beers on tap, and the full selection is available on the Cafe side.  An added bonus is that the wait staff on the Cafe side is pretty savvy on the beer selection – that did not go unnoticed, kudos!  As you can see from their Beer List there are a few 'craft staples' (you know, those big names that appear everywhere simply because they invest heavily in their sales staff), but there are also always some really well thought out and interestingly unique selections on their tap list too.
When it comes to the food, this is where the Billy Miner really starts to pull away from the competition.  A real wood-burning pizza oven is the first thing you'll notice;  but don't think for a second that it's just a gimmick.  The hand stretched thin crust pizzas are made with local ingredients and traditional rustic sauce.  They are so vibrant and fresh, I've never had a pizza there that I didn't LOVE.  And pizza is barely the beginning… their burgers and sandwiches are truly gourmet.   Any burger with beer sauteed onions, smoked gouda, bacon, and arugula is going to score pretty damned high on my list though, so don't take my word for it, check out the Burger List yourself, and tell me you didn't just drool a little…
Today though, ironically, I didn't come for the burgers or pizza – as sinfully good as they are, I have been meaning to try something off their Gourmet Waffle Menu forever now, and today I have set my gaze on the "Savory Fried Feather", fried chicken on a bacon stuffed waffle, smothered in roasted red pepper sauce.   with a side of maple syrup.  Worth.  Every.  Penny.
A few more cool things about the Billy Miner;  Choose a booth and you get lots of comfy fluffy pillows to sit on (a real hit with my son).  Also free wifi, so you can tweet about the passing of one of your favorite actors like we did today, or, check-in all your cool new beer finds on Untappd!  Ask for the wifi password and they'll give it happily, but I guessed it in 3 tries and my wife got it in 5.  Just think of the full name of their establishment, and you'll get it too.
Last but not least, the Billy Miner VIP Club.  Free to join, and every buck spent at the BMAH earns your way to $25 gift cards.
Being from Chilliwack, we're obviously not going to get out to the Billy Miner every single Sunday, but since craft beer and Sunday brunch is a time honored family tradition, we will be here at least once a month for the foreseeable future.  You can bank on that!
The following two tabs change content below.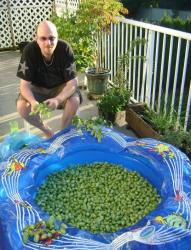 Brewer, business owner, blogger, and craft beer activist. Traveler, foodie, used to play in bands you may have heard of.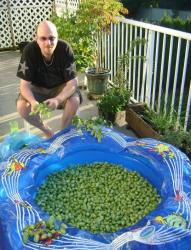 Latest posts by Calvin Quaite (see all)