In his book Craft Beer Revolution, Thirsty Writer Joe Wiebe refers to The Noble Pig Brewhouse in Kamloops as "easily one of the best brewpubs in B.C., maybe even THE best" and with those words, I knew that a stop at "The Pig" would be mandatory on my next B.C. beer road trip.   I used to pass through and/or stay in Kamloops many times a year, whether as a summer resident of the Shuswap, or as a member of a touring band, and thought I knew the bar scene fairly well – but somehow this gem had escaped me.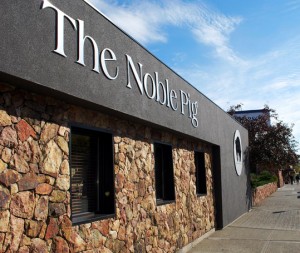 Last Summer, Fall, and Winter beer festivals and breweries in Washington, Oregon, and California seemed to conspire to keep my road trips heading South and I didn't once get a chance to head to the interior – but The Pig was always on my mind!  Then through much of this Spring every opportunity to head East was uncannily thwarted by freak blizzards on the Coquihalla summit.  Every opportunity that is, until this Victoria Day long weekend.  All the stars aligned, and a road trip was planned that also included Crannog Ales, Barley Station Brewpub, and Barkerville Brewing among others (see upcoming articles).  But truth be told, I already knew that The Pig was going to be the highlight of the trip, and I dare say I was still impressed despite my lofty expectations.
Upon entering, I was delighted to see that there is a bar side, and a restaurant side – meaning that on return visits through the area, my son can come into The Pig with us, and therefore automatically earned this establishment the lofty status of being our mandatory de facto Kamloops pit-stop and re-fueling station.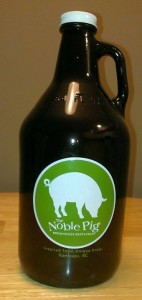 And by re-fueling, I mean growler fills.  Oh, I didn't mention that they do growler fills?  Of course they do!  But I'll get to that…
I sidled up to the bar and ordered a taster paddle of their cleverly named brews;  Fascist Pig Pilsner, Imperialist Pig IPA, Prodigal Swine Amber, Honey Badger Pale, as well as a Belgian Peppered Ale, Mocha Porter, Brown Ale and a Helles Lager.
Every beer was an excellent representation of their style, but the Mocha Porter and Belgian Peppered Ale were real standouts for me.  Brewer David Beardsell (former owner/operator of Bear Brewing) has got the Noble Pig's brewery and recipes seriously dialed in.  I've tasted enough beers to know when quality ingredients and exemplary brewing practices are being employed, and every beer I tasted today smacked of it.  Seriously good quality, seriously tasty.
And then our food came.  I'm surprised they didn't brand the place as a 'gastrobrewhaus' (okay, I just made that up – but I wouldn't be surprised if it was a real word) because the quality of ingredients and caliber of the kitchen staff was completely on par with the quality of their brew.
The brew deck and fermenters are on display for all patrons to view, and dark hardwood and black leather decor lend a swanky vibe.  The outdoor patio has a pergola loaded with fresh hop bines that on this dreary May day formed a vibrant green privacy screen, but I can only imagine how enticing it would look and smell in the fall, close to harvest season with plumes of hop cones cascading down from above.  Rumor has it that they harvest these hops to utilize  in a special fresh hop batch – if that's true, this is one more place I need to schedule a trip to during that ephemeral week when every B.C. brewery with a wet-hop program launches their prized annual cask or batch.
Over the 90 minutes or so that we sat at the bar on this drisly Sunday afternoon, I saw 20-30 growlers getting filled.  Without a counter-flow filler, it was a pretty painful process for the bartender, but none of the steady stream of patrons seemed to mind the wait.  In fact, faced with the choice between sitting down for a sleeve, or leaving right away, I'd take the wait any day.   On the off-chance that anyone from The Pig reads this though, a CO2 purge and counterflow filler might set you back $250, but at the rate I witnessed today it would likely save your bartender at least an hour a day.
We needed to get back to Chilliwack, despite wanting to just stay here forever – but at least we got to take a taste of The Pig back with us.  We filled our last two empty growlers from this trip, and bought a couple more.  The IPA was tasty enough to warrant a fill, and the mocha porter was an obvious choice.  Both were just as tasty 2 hours later when we were back in the Wack!
The Noble Pig is a MANDATORY stop for anyone from the Lower Mainland that is heading East.  If you're passing through Kamloops on your way to the Okanagan, the Shuswap, Edmonton, Calgary, or any points East, you can't not go here.  Even for half an hour, or for a whole evening, trust me, you'll thank me.  The Noble Pig is doing it right.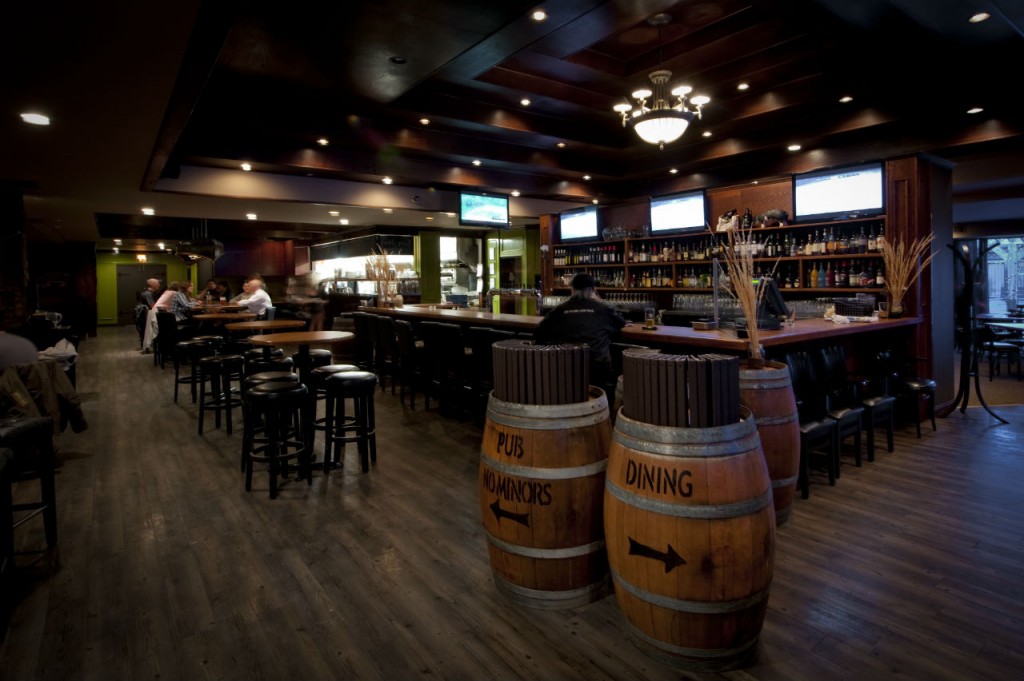 The following two tabs change content below.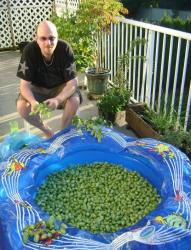 Brewer, business owner, blogger, and craft beer activist. Traveler, foodie, used to play in bands you may have heard of.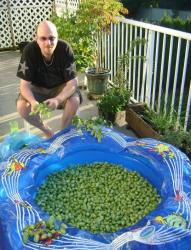 Latest posts by Calvin Quaite (see all)